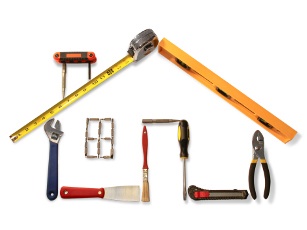 Earlier in April I wrote a blog called Considerations for Renovations: Increasing the Value of Your Home.
In that blog I outlined some basic things you should consider prior to getting to starting on a major renovation, including preparing your budget, selecting a good contractor, and getting some comparable quotes.
Renovations are a good way to modernize your space and add appeal to your home, especially if you are thinking of selling in the near future. Typically, renovations can take a lot of time and they can cost a lot of money. However not all renovations need to be major expensive projects. Often we can accomplish great results on a limited budget.
In this Reno Project Series blog I will provide some helpful tips to update a kitchen on a limited budget. Working from the ground up, here are some things you can do:
Flooring
Flooring in the kitchen gets a ton of use and abuse. Whatever you have now could probably use an upgrade. For tight budgets, you might want to consider vinyl flooring. Vinyl flooring is ideal for those who use the kitchen a lot and are looking for eye pleasing flooring that is easy to maintain. For a standard 10 x 10 kitchen expect to pay between $1000 and $1200. Alternatively, you can consider laminate as a step up from vinyl both in terms of cost and quality, especially if you enjoy a wood-like finish without the hardwood costs. For the same size space, laminate comes in at a slightly higher price of $1300-$1550.
Counter tops
Similar to flooring, you can get the high-style look of granite or other stone-type counters with the low-cost alternative of laminate. Laminate is easy to clean and maintain and is available in a wide variety of colours, textures and patterns, many of which are designed to mimic other higher end materials. Typically, laminate will cost between $20 and $50 per square foot. Butcher block is another budget-friendly option for counters starting at around $35, but it can also be quite expensive at $200 per square foot, depending on what product you choose.

Cabinets
This is where you can find the biggest savings. Rather than tearing down your existing cabinets, why not try working with the ones you already have. Spruce up your cabinet by painting or replacing the doors. If you have flat-panel cabinet doors, transform them into the stylish Shaker style by adding frame-like molding and painting the doors. Want a bit more of a professional look? Then you should consider refacing your cabinets. Refacing cabinets in a typical kitchen starts at around $1,000-$3,000 for plastic laminate and $2,500-$6,000 for real wood veneer, although costs can rise to $7,000-$9,000+ for a large project with high-quality wood veneer.
Whatever you choose, these simple and budget friendly tips can go a long way to updating your kitchen without breaking the bank.
If you are looking for an experienced professional contractor who can help you with these renovations, I highly recommend RenosGroup.
If you have more renovation ideas, or any questions, don't hesitate to leave a comment below or get in touch