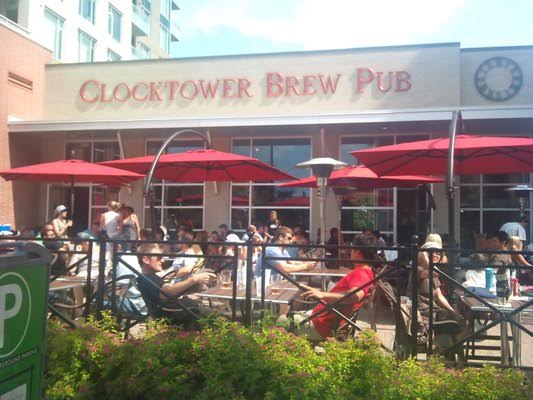 A packed patio at Clocktower Brew Pub in Ottawa's Westboro community.
Nothing beats a sunset in the summer.
That is…nothing beats a sunset in the summer in the company of friends and family (and a cold beverage) on your favourite patio!
Summer is now in full swing, with average temperatures slightly higher than usual. With this heat continuing well into the foreseeable future, I decided to put together a list of standout outdoor patios based on the neighbourhoods I have featured on this blog to date.
Fourth Avenue Wine Bar
107 Fourth Avenue
Established in 2003, Fourth Avenue Wine Bar offers great ambiance for those looking for cozy place to have a nice glass of wine. They have a patio and a back deck, both of which are licensed year round. However - this patio is not heated, so be sure to bring along a sweater if it's a cool night.
Black Dog Bistro
5540 Main Street
A charming location with great ambiance and décor, The Black Dog is cozy and intimate both inside and out. This is a fantastic little spot with excellent food and attentive staff. They have a nice selection of beer, wine, and liquors that won't disappoint. The large patio out front overlooks Main Street and can accommodate many diners in the summer. 5540 Main Street
Manotick
Caffé Mio
1379 Wellington Street
Caffé Mio is a nice little Italian Café with tasteful and intimate decor. The food here is simple, nicely presented, and uses fresh ingredients. Creative soups, salads, sandwiches and pastas are all on the menu, and servings are ample. Food and beverages are all reasonably priced. The patio is street-facing, which is great for those who want to see and be seen.
Back Lane Cafe
1087 Wellington Street West
A beautiful little café in Hintonburg with great food and drinks, Back Lane Café prints new menus for each meal service, and all their food is prepared daily from scratch. The patio is located at the rear of the restaurant, hence its name. It's a quaint outdoor space where you can meet friends for some happy hour fun or weekend drinks. Want to bring your own wine? The corkage fee is only $10 with a reservation. This is a great option, considering there is an LCBO only 450 meters (5 minute walk) from the café.
Clocktower Brew Pub
418 Richmond Road
As far as patios in Westboro go, Clocktower Brew Pub offers the largest street-level space in the neighbourhood. You will often see patio diners with their dogs during the day enjoying a nice fresh Clocktower beer (brewed in-house), and a fun, rowdier crowd in the evenings. For those who prefer the shade - no problem! There are plenty of patio umbrellas available if the day is getting too hot.
Broadway Bar & Grill
665 Earl Armstrong Road
Looking to sit on a patio and catch some rays in the suburbs? Broadway Bar & Grill offers your traditional pub fare, and best of all - is completely family friendly. Their large Riverside South patio is south-facing for that perfect sun exposure throughout the day.
New Edinburgh Pub & Eatery
1 Beechwood Avenue
Known for its large rooftop patio that overlooks the Rideau River, the New Edinburgh Pub & Eatery is the first thing you will see when entering the community from the west, along St. Patrick Street. Serving classic tavern fare and plenty of drink options, the New Edinburgh's Pub & Eatery has a great west facing patio where you can enjoy the late summer sunsets.
The Barley Mow
1481 Greenbank Road
Live entertainment and a west facing patio…what more could you ask for? The Barley Mow in Barrhaven has daily specials that won't disappoint. From $5 pints and cocktails to $20 bottles of wine, there is truly something for everyone. Grab your drink and head outside to enjoy the breeze.
Central Bierhaus
650 Kanata Avenue
Now for something completely different. The Central Bierhaus is modelled on the German beer hall, and is the first of its kind in Ottawa. Inside, long tables that are shared amongst patrons, a concept that is not common in North America. Outside, the patio offers the same style of seating - with long benches and umbrellas. There are plenty of different beers to try, sausages with sauerkraut to munch on, and people to meet. This is a restaurant that you'll want to visit over and over.
The Brew Table
360 Moodie Drive
The Brew Table is a great place to unwind after work. With a fresh and modern feel, this restaurant has plenty of great food to choose from, and a great wine list. The patio is south facing and has plenty of seating on for those hot summer days.
Enjoy one or enjoy them all…patios are where you want to be this summer! With only roughly 60 days left in the summer season, what are you waiting for? Get out there and enjoy the nice weather!