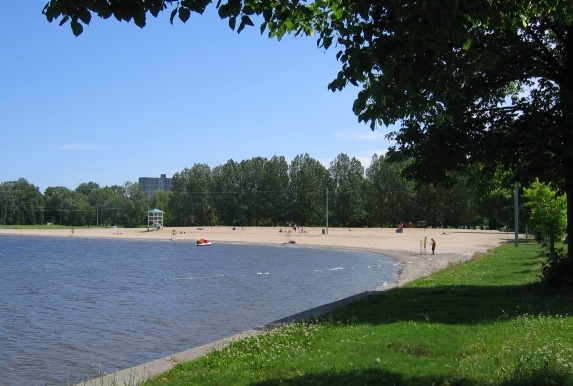 Photo credit "BritanniaBeach" by James R. Skinner.
Attention all sun seekers and beachgoers:
This week marks the last official weekend that Ottawa city beaches will be open for your enjoyment. On August 12, the Ottawa Citizen published a story called Ottawa beaches to close Sunday, while season continues to shrink, which prompted me to check this weekend's forecast to see if we could enjoy some last-minute fun in the sun.
The forecast earlier in the week wasn't looking good, but now the weather is looking great for both Saturday (sunny with a high of 29) and Sunday (a high of 31)!
So where can you go to enjoy some beach time before the season ends? There are several options for sun, surf, and fun in Ottawa.
West
Britannia Beach (2805 Carling Avenue) – Located along the banks of the Ottawa River, Britannia Beach offers access to free parking, washrooms, outdoor showers, BBQ pits, and picnic tables. If you want a bite to eat you can get some grub at the canteen that is operated by Grenfell catering. Britannia Beach is in the west end of the city, close to some of the Ottawa neighbourhoods that I have previously featured on this blog, including Qualicum-Graham Park, Bells Corners, Kanata, and Britannia Village.
South
Mooney's Bay (2926 Riverside Drive) – Located on the Rideau River near Carleton University, Mooney's Bay beach is home to Ottawa's Dragon Boat Festival and Hope Volleyball SummerFest. There are many paddling possibilities at this beach, including stand up paddle board (SUP) lessons, SUP yoga, and other fitness options. Mooney's is a large, paid parking beach with access to washrooms, change rooms, picnic tables, BBQ pits, and tennis courts. It is located closest to my Featured Ottawa Neighbourhoods of Old Ottawa South, The Glebe, and Riverside South.
East
Petrie Island (727 Trim Road) – Located further down the Ottawa River from Westboro and Britannia Beaches, Petrie Island offers access a canteen operated by Bananas, washrooms, and paid parking. The beach at Petrie Island also rents out watercrafts for beachgoers to enjoy. It is located closest to my Featured Ottawa Neighbourhood of New Edinburgh.
Central
Westboro Beach (745 Sir John A. Macdonald Parkway) – Located along the Ottawa River between Britannia Beach and Petrie Island off of the Macdonald Parkway, Westboro Beach offers free parking, washrooms, and a licensed canteen with an outdoor patio operated by Westboro Beach Cafe. Like many other city operated beaches, boat rentals are also available during operating hours. Westboro Beach is closest to my Featured Ottawa Neighbourhoods of Mechanicsville, Wellington Village, Hintonburg, and Westboro.
If you don't consider yourself much of a beach person, but still want to cool off on a hot day - you may want to check out some of Ottawa's excellent outdoor pools. Click here to learn more.
If at any time you want to check out the real estate options in any of these beach-friendly areas, get in touch with me. I'd be happy to show you around!