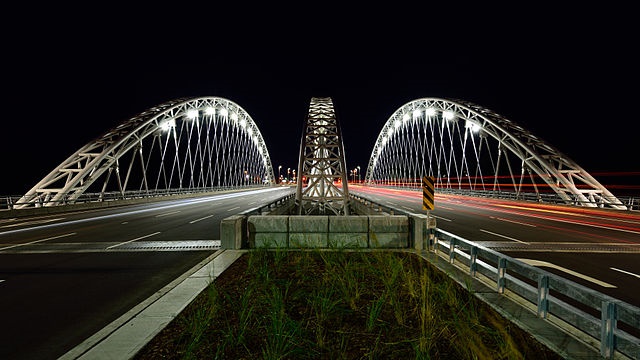 Image Credit: Strandherd-Armstrong Bridge by Saffron Blaze - Own work.
Riverside South (formerly a part of the city of Gloucester) is a family oriented suburb in Ottawa located about 25 minutes south of downtown along the east side of Rideau river. The community is bounded by Leitrim road to the north, the Rideau River to the west, and Bowesville road to the east. The southern boundary is halfway between Earl Armstrong road and Rideau road.
Historically, Riverside South was sparsely populated and home to farm land until real estate development started in 1996. Around 2001, development accelerated, and the community started to expand more rapidly. Now – Riverside South is one of the fastest growing suburban developments in the entire city for young families with an anticipated annual growth rate of 13.5%. The majority of the population is between the ages of 35-50 years old with an average household income of around $140,000. The biggest indicator that Riverside South is a young and growing community is the fact that 75% of households in the community have children.
The explosive growth of Riverside South led to the need for a link to the Barrhaven neighbourhood. This link was completed with the construction of the Vimy Memorial bridge. This bridge now provides easy access for those living in Riverside South to the all the many services and amenities Barrhaven has to offer (click here to read a blog post I did last year about Barrhaven community).
Riverside South has plenty of outdoor space for adults, children, and even family pets to enjoy. The community is home to multiple parks, including the beautiful Claudette Cain Park which has an exciting splash pad that opened in 2010 right alongside the Rideau River. In addition to parks, Riverside South has many kilometers of trails and pathways that wind through forested areas, alongside ponds and ravines used for walking, jogging, biking, and cross country skiing.
Riverside South is also home to a variety of schools including three Catholic schools - St. Jerome elementary, L'école élémentaire catholique Bernard-Grandmaître, and St. Francis Xavier High School. It is also home to Steve Maclean elementary Public School, but the neighbourhood has yet to build a public high school. In the meantime high school students are served by the public high schools in the surrounding areas.
For amenities, Riverside South has a number of restaurants including Broadway Bar and Grill, Zizis Kitchen & Wine Bar, and Indulge Kitchen and Cocktails. For sports and recreation there are Samadhi Massage Therapy / Fitness and Plyomax Fitness Centre.
To learn more about what Riverside South has to offer, visit the Riverside South Community Association webpage.
Or, don't hesitate to get in touch with me. I'd be happy to show you around!