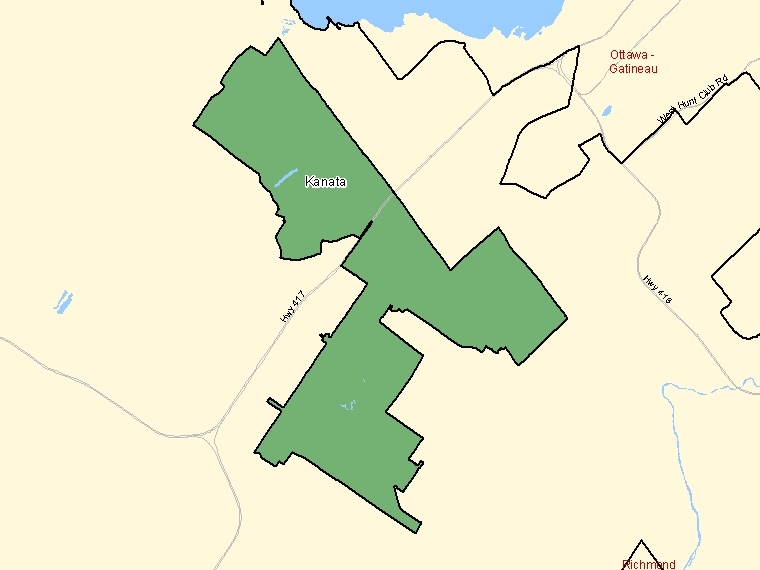 Image Source: Statistics Canada
This week, I'm going to move a little further West (22 km west south-west of downtown, to be specific) and talk about Kanata – one of the largest suburbs in the city of Ottawa.
According to the 2011 census, Kanata is home to over 100,000 residents. It's a young, vibrant, family-friendly community – the median age is 38, and 50% of the population is between the ages of 25-59 years old. More than half of the households have children living at home.
The most common dwelling-type in Kanata are single-detached homes, but there are also lots of row-houses, some semi-detached homes, and apartments. Price-wise, it varies greatly – depending on the type, size and age of the home, but a nice family property can be purchased in the 350K-450K range.
Kanata is known for being home to many of the city's important high tech businesses, mainly clustered along March Road, in the Kanata North Business Park and Kanata Research Park, and along Eagleson Road, in the Kanata South Business Park.
There are a lot of smaller subdivisions in Kanata, including Beaverbrook, Briarbrook/Brookside/Morgan's Grant, Bridlewood-Emerald Meadows, Glen Cairn, Kanata Lakes, Kanata Town Centre, Katimavik-Hazeldean, and March-Rural.
In addition to varied and affordable housing, Kanata is a great place to live because of all its convenient amenities. As one of Ottawa's fastest growing communities, the neighbourhood is home to 20+ schools (several of them very highly rated by the Fraser Institute), hundreds of stores, services and restaurants, numerous leisure facilities, lots of parkland, playgrounds, trails, and dozens of places of worship. Kanata is also the location of the Canadian Tire Centre, home to the Ottawa Senators.
For more information about Kanata and all it has to offer, check out the West Ottawa Board of Trade or the Kanata North BIA.
Does Kanata sound like a place you want to live? If you want to learn more, don't hesitate to get in touch. I'd be happy to show you around.