This week's featured Ottawa neighbourhood is Bells Corners. Located in Ottawa's west end, Bells Corners stretches from the Thorncliffe Bridge to Westcliffe Bridge, from Stafford Road and Northside Road along Robertson Road.
Bells Corners has a population of about 10,000. Historically, the community was mainly rural until the 1900s. By the 1950s, the neighbourhood had become a commercial center for the outlying rural areas. The area was first part of Nepean Township, and later the City of Nepean, until amalgamation with the City of Ottawa in 2001.
Most of the homes in the Bells Corners area were built between 1961- 1980. A large majority of the population own their homes. The community is made up of mostly single/detached and row house type dwellings. The neighbourhood also has a multi-storey housing complex, multiple retirement homes, and a co-operative housing project. Pricing to purchase a property ranges from $175,000 (for a small, older townhome) to well over $500,000 (for a large, upgraded detached home). The great thing about this area is that there are options for every budget.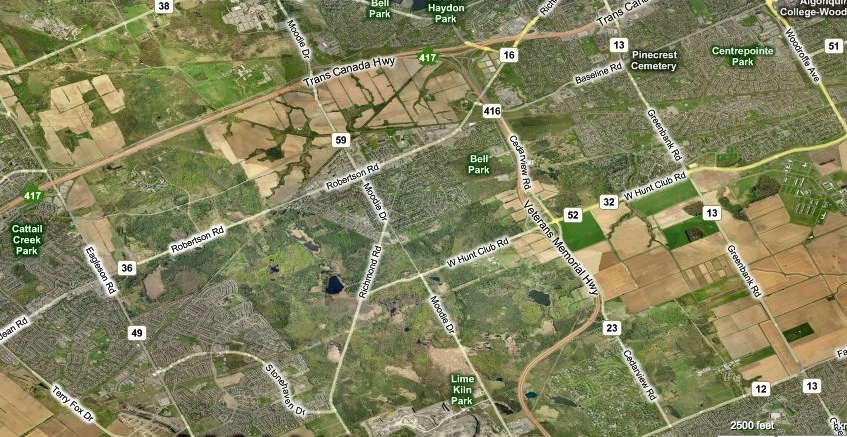 Image Credit: bellscorners.wordpress.com
Bells Corners is conveniently located between downtown Ottawa and Kanata (home of the Ottawa Senators' Canadian Tire Centre Arena), providing quick access to both. The area is also steps away from Ottawa's largest and most popular off leash Dog Park, located at 175 Cedarview road.
Bells Corners provides residents with easy access to major highways (both north-south and east-west), roads, public transportation, schools, businesses, parks, and green space.
Major highways and roads include convenient access to the 417, the 416, Baseline Road, Cedarview Road, Eagleson Road, Fallowfield Road, Hazeldean Road, Hunt Club Road, Moodie Drive, Old Richmond Road, and Robertson Road.
Schools include Bells Corners Public School, Our Lady of Peace Elementary School, D. Aubrey Moodie Intermediate School, Bell High School, and College Catholique Franco-Ouest.
There is a vibrant and growing business community in the area, promoted city-wide by an active Business Improvement Area (BIA).
There are both local and chain restaurants including The Brew Table, Grazie Kitchen and Pizza, East Side Mario's and Starbucks. Retail stores include Winners, Loblaws, Shoppers Drug Mart and the LCBO. Finally, the area hosts a number of hotels, banks, medical clinics and various professional services. Bells Corners is also quite close to Bayshore Shopping Centre, a major Ottawa mall and mass transit hub.
Overall, Bells Corners is a growing community with a ton of amenities and affordably priced real estate. If you are interested in moving to Ottawa's West end, this could quite possibly be the neighbourhood for you. If you would like more information about Bells Corners, don't hesitate to get in touch.