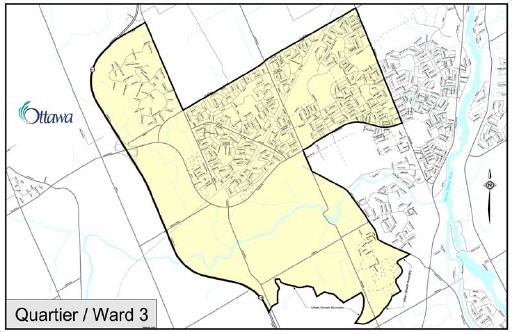 Image Source: City of Ottawa website.
Barrhaven (formerly a part of the City of Nepean), is a family oriented suburb in Ottawa located approximately 20km southwest of downtown (the Greenbelt is to the north, the Rideau River is to the east, Highway 416 is to the west, and the Jock River is to the south).
Before Nepean amalgamated with the City of Ottawa in 2001, Barrhaven was home to approximately 35,000 people. Now, according to the 2011 census, the community's population has grown to 84,266 and it's expected to hit 100,000+ in the near future. The city's plan for Barrhaven is to create a neighbourhood that is self-sustaining, with a 'community core' to provide plenty of employment opportunities and walkable shopping areas connected to public transit. This plan has been underway for some time and you can already see the positive impacts and results.
The original Barrhaven, now called Old Barrhaven, was developed in the 1960s. Since then, it has grown in all directions – and many of the homes are either brand new or less than 20 years old. Housing types range from large single family homes and townhouses to some condominiums and retirement residences. One of the great things about Barrhaven is that there is a real estate price point for almost anyone. Condos start at around $200K, townhomes range from $250K to $350K, and single family homes start at around $350K and can go all the way up to a million dollars.
There are numerous sub-divisions within the community to choose from, including Chapman Mills, Old Barrhaven, Longfields, Havenlea, Stonebridge, Half Moon Bay, and many more.
Barrhaven is very popular with families, as it has excellent highway and public transportation access, 20+ schools, various childcare options, recreation centers (including the brand new Minto Recreation Complex), parks, and playgrounds. Barrhaven also has excellent amenities, including hundreds of stores (Canadian Tire, Indigo Books, Future Shop), restaurants (Pinelopi's Greek Kitchen, The Works, The Barley Mow), a movie theatre (Cineplex Odeon), grocery stores, gyms, banks, and professional services.
To learn more about what Barrhaven has to offer, visit the Barrhaven BIA.
Or, don't hesitate to get in touch. I'd be happy to show you around!