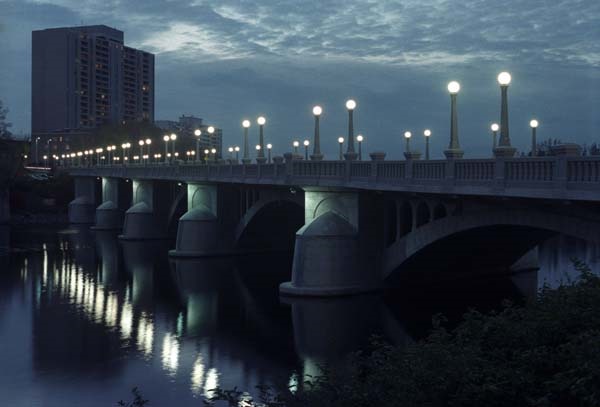 The Ottawa neighbourhood of Vanier is located just east of the Rideau River, bounded by Beachwood Avenue to the north, St. Laurent Boulevard to the east, and McArthur Avenue to the south. The community is surrounded by New Edinburgh, Rockliffe Park, Lindenlea, and Manor Park.
Originally the area was actually made up of three smaller villages; Clarkstown, Clandeboye, and Janeville. In 1908, the three villages were amalgamated into Eastview, which eventually became "the City of Eastview" in 1963.
In 1968, the Government of Ontario (under the leadership of Premier John Robarts) amalgamated Eastview with the Ottawa-Carleton Regional Municipality. One year later, in 1969, Eastview was renamed after Major-General Georges-Philéas Vanier, who died at his post in 1967.
Finally, in 2001, Vanier completely amalgamated with the City of Ottawa.
Historically, Vanier was a low-income working class neighbourhood, much another historical Ottawa neighbourhood recently featured on this blog, Mechanicsville. Over the years, Vanier developed a reputation as a "rough" part of the city where many were reluctant to venture. This reputation has slowly been changing in recent times as crime statistics in the neighbourhood continue to decline.
Today, given the ongoing gentrification and investment in the neighbourhood, Vanier has become an incredible investment opportunity for those looking to purchase real estate. The value of Vanier comes from its relative proximity to downtown, and its affordability compared to other comparable neighbourhoods (examples include Old Ottawa South, Westboro, Wellington Village, and Little Italy). Vanier is one of the last affordable inner-greenbelt neighbourhoods undergoing gentrification, so now is truly the time to buy.
This gentrification has also brought an influx of interesting new businesses, including furniture and home accessories retailers Zuffa Home and Vanier Moderns.
If you would like to learn more about what Vanier has to offer, get in touch with me. I'd be happy to show you around!