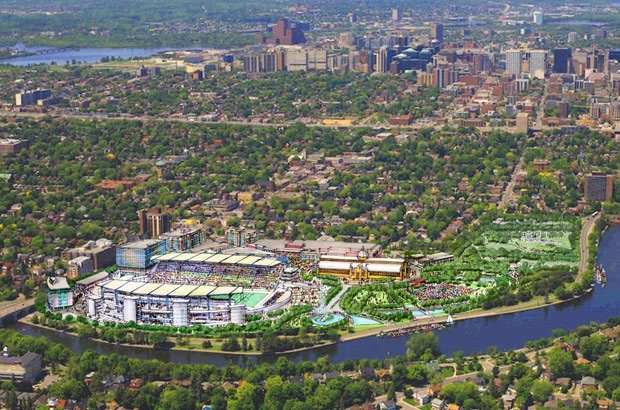 Photo Source: Ottawa Citizen
The Glebe has truly become one of the hottest neighbourhoods in Ottawa. In fact, chances are if you weren't running in The Ottawa Race Weekend last Saturday, then you were likely poking through items at the Great Glebe Garage Sale.
The Glebe is an urban neighbourhood directly south of downtown. The community is bound along the East and South by the Rideau Canal. The northern part of the Glebe is bound by the Queensway with the West bounded by Dows Lake. Historically, Glebe means "land belonging or yielding revenue to a parish church or ecclesiastical benefice", which is fitting since the area was once owned by St. Andrew's Presbyterian Church.
If you would have asked someone if they wanted to move to the Glebe in the late 1700s, you wouldn't have been very successful. Just ask George Hamilton, who had his grant of the area revoked in 1797 due to not one person wanting to move there after seven years. So why did George Hamilton have such a problem?
Prior to the commencement of the Rideau Canal in 1826, the Glebe was largely a swamp. In fact, Dow's Lake at the time was known as Dow's Great Swamp and Patterson's Creek, which is just north of First Avenue and was used as a dumping ground for refuse and waste materials.
Today, the Glebe is one of Ottawa's trendiest and most sought after neighbourhoods. Most of the houses in the Glebe are single freehold homes built before 1946; however there are plenty of options for row houses and condominiums. Residents of the Glebe, or "Glebites" as they are often called, include young professionals, families, students, and retirees; all of whom enhance the vibrancy of the neighbourhood.
The Glebe is anchored by Bank Street (which gets its name from its starting point along the bank of the Ottawa River), which runs from North to South through the neighbourhood. The Glebe is home to many excellent shops, restaurants, and fitness facilities - making it an ideal neighbourhood for those who want access to many amenities.
Perhaps one of the biggest attractions in the Glebe is the recently redeveloped Lansdowne Park. The area was initially purchased in 1868 by the Ottawa Agricultural Society, who used the land as a fairground that also hosted carnivals, circuses, exhibitions, and sporting events. Today, Lansdowne still provides the same role that it did 147 years ago. Lansdowne is now the home of the Ottawa Redblacks, the Ottawa Fury FC, and the Ottawa 67s. It is also host to Ottawa's Farmers' Market and many other unique events, including festivals and concerts.
To learn more about what the Glebe has to offer, please visit the Glebe Community Association website, or get in touch with me. I'd be happy to show you around!