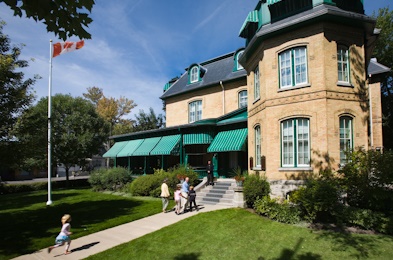 Photo credit: Parks Canada
The Ottawa neighbourhood of Sandy Hill is located just south-east of Ottawa's downtown core. It is bound by Rideau Street, Besserer Street, and Daly Avenue to the north, Highway 417 and Nicholas Street to the south, the Rideau River to the east, and the Rideau Canal to the west.
Historically, Sandy Hill was a logging site that belonged to some of Ottawa's major landowners, including Colonel By and Louis Besserer. They subdivided the land, and Sandy Hill officially became the home to most of Ottawa's lumber barons, while their blue collar labourers lived in the communities just to their west.
When Ottawa was tapped as the capital, Sandy Hill became home to senior public servants and to the prime minister, who lived at Laurier House (previously known as Stadacona Hall). For over fifty years, this Victorian mansion in Sandy Hill was at the heart of Canadian political life, serving as the residence of both Sir Wilfrid Laurier and the Rt. Hon. William Lyon Mackenzie King. Sandy Hill was also the historic home of "the College de Bytown", which is now the University of Ottawa.
Many homes in Sandy Hill are large residences from the late 19th and early 20th centuries that have now been subdivided into apartments, or have become embassies or headquarters for nonprofit organizations. The growth of the University of Ottawa has attracted many students to the area, who live, work, and play in the neighbourhood.
The benefits of having the University in the community are enormous, as it offers many facilities and programs that have special rates specifically for Sandy Hill residents. This includes access to the Montpetite fitness health and lifestyle centre, the uOttawa Minto Sports Complex squash courts, and so on. Additionally, the University hosts a wide varety of sports camps, spanning from dancing and swimming to fencing and soccer.
Beyond the university, there are many other restaurants, bars, cafes, shops, and other services that make the neighbourhood a great place to live.
Sandy Hill is truly an eclectic community due to the diversity of its residents and housing types. As a result, the neighbourhood has established Action Sandy Hill (ASH), a community association that "strives to represent the diversity and interests of the community it serves".
If you would like to learn more about what Sandy Hill has to offer, get in touch with me. I'd be happy to show you around!